Customer Care
Thank you for your interest in Lily Boutique. We greatly appreciate all of our customers and are always glad to hear from you!
Most of the answers to your questions can be found below on our Customer Care Page. If you need further assistance, feel free to contact us via regular mail, phone, fax, or e-mail. We are available Monday through Friday 10 am to 5 pm Central Standard Time:
We are happy to take your order or answer any questions Monday – Friday 10 a.m. through 5 p.m. Central Standard Time. If you are sent to voicemail during this time, we are busy assisting other customers. Feel free to e-mail us at sales@lilyboutique.com. We typically respond to all e-mail inquiries within 24-48 hours.
Contact Lily Boutique
Phone: (618) 940-0716
(available 10am – 5pm CST)
Fax: (618) 524-5410
Email: sales@lilyboutique.com
Address:

Lily Boutique
2125 E 5th Street
Metropolis, IL 62960
Size Chart
Lily Boutique clothing is Junior sized which runs smaller than misses sizes. Sizes are approximate and may vary by label, brand, or personal preference of fit. Please refer to the following size chart: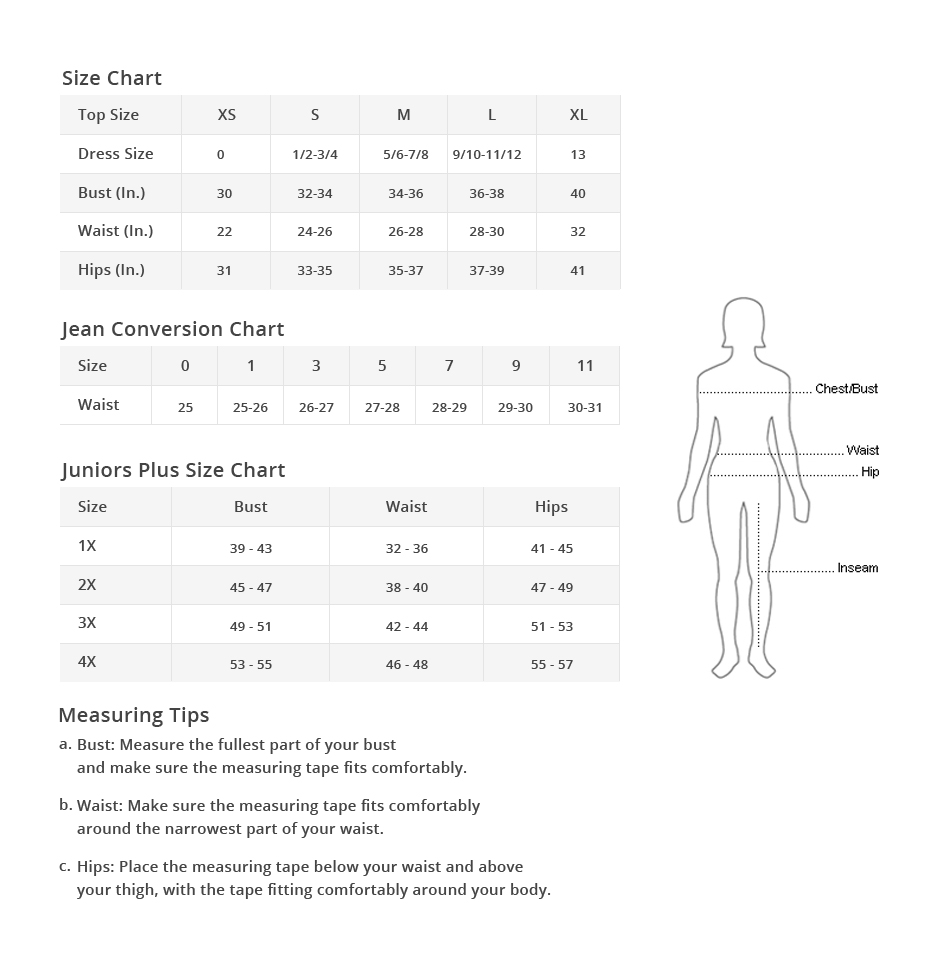 FAQ
How can I place an order?
The quickest way to place an order is through our website. All purchases made at Lily Boutique are passed through a secure server so your credit card information is protected. All credit card payments are directly processed through our merchant account provider, Paypal Pro. We never see your credit card information.
You can also give us a call Monday - Friday 10 am to 5 pm CST to place your order over the phone.
What methods of payment do you accept?
We currently accept Visa, Discover, Mastercard, American Express, and Paypal. For security reasons, your billing name and address must match that of the credit card used for payment.
Is it safe to place my order online?
There is no need to worry about credit card safety when ordering from Lily Boutique using our secure server. Our secure server software (SSL) is the industry standard and among the finest software available today for secure e-commerce transactions. All of your personal information, including your name, address, and credit card information is encoded so that it cannot be read as the information travels over the Internet. We never see your credit card information or have any access to your credit card numbers when you place your order online.
I'm having trouble getting my order to go through. What should I do?
First, make sure you have completed every field at checkout and didn't leave any required information blank. For security reasons, your billing address must match exactly what you have on file with your credit card company. Please review the information carefully and check for typographical errors. Please note that some types of debit and credit cards do not support address verification and are therefore not accepted by our system. If you are still having trouble, feel free to give us a call Monday - Friday 10 am to 5 pm CST and we can take your order over the phone.
Can I modify my order after it has been placed?
Please call or send an e-mail to sales@lilyboutique.com if you need to modify an order after it has been placed; however, we cannot guarantee that we'll be able to modify your order as we process and ship them out very quickly. Once an order has been shipped, we are unable to make any changes.
Do you charge sales tax?
We are required to charge sales tax on purchases made in the state of Illinois.
What is your policy concerning out of stock items?
Occasionally an item you ordered may be out of stock due to a discrepancy in our inventory. When this happens, we will send you an e-mail notifying you about the out of stock item and your credit card will be refunded. Don't worry—we may restock the item in the future and are always getting great new items you're sure to love!
I see something I am interested in, but you are sold out in my size. Will you be getting more in?
Sometimes we receive another shipment of dresses or relist a customer return/exchange. Please go to the product page and sign up for a restock notification by clicking on the "Notify on Restock" link above the Add To Cart button. If we get another item back in the size you're looking for, you'll automatically receive an e-mail from us! Unfortunately we aren't able to do custom or special orders.
Shipping
When will my order be shipped?
Most orders are shipped within 1-3 business days of purchase, unless we have a problem with your order or need additional verification. You will automatically receive an e-mail when your order has shipped. It will contain a tracking number you can use to go online and track the status of your shipment.
What shipping methods do you use? How much is shipping?
Standard shipping is FREE on all orders within the United States where the merchandise total is over $75.
Standard shipping is FREE on all Canada and International orders where the merchandise total is over $150.
For orders under $75, we offer standard flat rate shipping for $8. Most of our packages are sent out via the United States Postal Service and typically arrive within 3-5 business days.
For expedited shipping within the continental United States we offer Express shipping for $27 which takes 1-2 business days to arrive after it has been shipped. Please also add 1-2 days for processing.
Unfortunately, we cannot be responsible for lost or stolen packages or packages delayed by the postal service.
Shipping Costs and Methods

Standard Delivery
$8
Orders Over $75 (standard delivery)
Free Shipping!
Express Shipping (1-2 days)
$27
Canada
$14
International
$18
Please note: Free shipping over $75 is available within the United States on orders in which the merchandise exceeds $75. Free shipping on Canada/International orders is available when the merchandise total exceeds $150.
Refused or Undeliverable Packages
Please provide an accurate, working address for us to ship your merchandise to. Please remember to include your apartment number, floor number, or any other information that is necessary to ensure that the carrier can successfully deliver your package. Refused or undeliverable packages may be subject to return shipping costs. If you would like us to re-ship a package that was returned to us as undeliverable, additional shipping costs are your responsibility.
International Shipping
Do you ship internationally? What are my international shipping options?
Yes, we currently ship to the following countries:
North America

United States
Canada
Africa, Middle East and India

Bahrain
Equatorial Guinea
India
Israel
Jordan
Kuwait
Oman
Reunion
Saudi Arabia
South Africa
St. Helena
Asia Pacific

Australia
Brunei Darussalam
Cambodia
China
French Polynesia
Hong Kong
Indonesia
Japan
Laos
Macau
Malaysia
Maldives
New Zealand
Phillipines
Republic of China – Taiwan
Republic of Korea, South
Singapore
Thailand
Viet Nam
Europe

Albania
Andorra
Andorra
Belarus
Belgium
Bosnia-Herzegovina
Bulgaria
Croatia
Cyprus
Czech Republic
Denmark
Estonia
Faero Islands
Finland
France
Germany
Gibralter
Greece
Greenland
Hungary
Iceland
Ireland
Italy
Latvia
Liechtenstein
Lithuania
Luxembourg
Macedonia
Malta
Moldova
Monaco
Montenegro
Netherlands
Norway
Poland
Portugal
Romania
Russian Federation
San Marino
Serbia
Slovakia
Slovenia
Spain
St. Pierre and Miquelon
Sweden
Switzerland
Turkey
Ukraine
United Kingdom
Latin America and the Carribean

Anguilla
Antigua and Barbuda
Argentina
Aruba
Bahamas
Barbados
Belize
Bermuda
Bolivia
Brazil
Cayman Islands
Chile
Colombia
Costa Rica
Dominica
Dominican Republic
Ecuador
El Salvador
Falkland Islands
French Guyana
Grenada
Guadalupe
Guatamala
Guyana
Hondoras
Jamaica
Martinique
Mexico
Montserrat
Netherlands Antilles
Nicaragua
Panama
Paraguay
Peru
Saint Kitts and Nevis
Saint Lucia
Suriname
Trinidad and Tobago
Turks and Caicos Islands
Uruguay
Venezuela
Virgin Islands (British)
International Shipping Rates
All international orders (except Canada) will be charged a flat shipping fee of US $18 and will be shipped via the United States Postal Service*.
Standard shipping is FREE on all Canada and International orders where the merchandise total is over $150.
Orders are generally received within 5-15 business days from the ship date; however, it can take longer due to customs regulations beyond our control.
At this time, International orders cannot be shipped via an expedited shipping method, such as Next Day or 2 day.
Will I have to pay international duties and taxes?
Your order may be subject to import duties and taxes, which are levied once a shipment reaches your country. Any additional duties and taxes assessed by customs are the responsibility of the customer. Duties and taxes vary depending on the country to which the order was shipped. Please contact your customs office for specific amounts and percentages.
Lily Boutique cannot control and is not responsible for any duties/taxes applied to your package. Customs policies vary widely from country to country; In rare occasions custom agents may delay delivery of some packages.
We are required by law to declare all items at their full price and are unable to alter this amount to decrease international customs fees.
Returns and Exchanges
What is your return policy?
Thank you for shopping at Lily Boutique! We take pride in the quality of our merchandise and want you to be happy about your order. We are happy to offer easy, no-hassle refunds on returns received within 30 days of the original invoice date. You will receive a refund to the original payment method used when placing your order. It will take approximately 5-10 business days to process your refund once we receive it. If you would like to make a return, please ensure that your return meets the following criteria:
Returns and exchanges are accepted on items received within 30 days of the original ship date. Returns and exchanges are accepted on items that are in original condition with any original tags, and have not been altered, worn, washed, or damaged. Shipping charges are nonrefundable.
A 20- 30% restocking fee may be charged if the item(s) returned are not returned within 30 days. Please do not ship items back to us after 45 days from the original invoice date as we are unable to process any refunds or exchanges in our system after 45 days have passed. We won't be able to process your refund and we will not pay to ship it back to you.
If you have received the wrong item or a defective item, please e-mail us at sales@lilyboutique.com within 5 business days after receiving your order so that we can assist you. Please note that items that have been damaged due to wear and tear, or from being washed incorrectly are not considered to be faulty and are therefore not eligible for return. Please follow care label instructions to ensure that your garment retains its original quality.
Shoes must be returned in their original and undamaged box. Shoes returned with postage stickers on the original shoebox are unsalable and will be ineligible for return. Please place the shoebox inside of a larger packing box to return them to us.
Unfortunately, we cannot accept returns on sale items, earrings, undergarments, hosiery, or gift cards.
We inspect all returned items and items returned to us worn or with stains on them cannot be accepted. Please be careful when trying on merchandise from Lily Boutique. The customer is responsible for any return shipping costs incurred for items shipped to us worn, altered, stained, or damaged.
Please remember to include your return form, so that we can identify who the return is from and credit you accordingly.
Shipping costs are nonrefundable, except in cases where we have made an error. If you have received the wrong item, please notify us by e-mailing sales@lilyboutique.com so that we can ship out the correct item to you.
We do not provide pre-paid return labels. The customer is responsible for all shipping costs. Please ship your return via UPS, FedEx, or USPS. We strongly recommend that you consider purchasing tracking and/or delivery confirmation as we are only able to issue a refund on merchandise we receive.
Exchanges
Currently, we are only able to exchange for the same item in a different size. If you would like to make an exchange, simply write the size and item you would like to exchange for on your return form. If it is in stock, we will ship it out to you at no cost. If it is no longer in stock in your size, we will treat it as a return and refund you accordingly. Unfortunately, we cannot offer International exchanges.
By purchasing from Lily Boutique, you accept these terms and conditions.
Q. How do I make a return?
A. After reading our Return Policy above and ensuring that your items are eligible for return, simply fill out the return form on the back of your packing slip and place it along with the items in a securely sealed shipping box.
Mail it to:
Lily Boutique
2125 E 5th Street
Metropolis, IL 62960
Please note: The customer is responsible for return shipping costs.
***Remember to ship your merchandise via UPS, FedEx, or USPS. Please consider purchasing tracking/delivery confirmation as we are only able to issue a refund on merchandise we receive. We cannot be responsible for lost or damaged items being returned to us.***
Privacy Policy
Thank you for shopping at Lilyboutique.com. In order to tell you about our latest products, specials, and other news we ask for your e-mail address. To fulfill your order, we need your address, phone and credit card information. Please remember that we've done our best to ensure the privacy and security of your transactions. Your personal data will be treated with the highest standards of security and confidentiality. We will not share your personal information with any third party without your consent. If at any time you would like to opt out of our e-mail list, you may choose to unsubscribe.
Secure Shopping
Orders placed on our site are encrypted using SSL technology, the industry-standard authentication and encryption technology, to ensure your transactions are protected. With SSL implemented on both the client and server, information transmitted over the internet will remain unaltered and secure. In order for SSL security to work, you must use an SSL enabled browser. Most Netscape and Explorer browsers, version 3.x and later, support SSL. If you have any concerns about placing your order online, please order by phone.
Please note that email is not encrypted, and therefore NOT a secure means of transmitting credit card information. Lily Boutique will NEVER request sensitive information over e-mail.